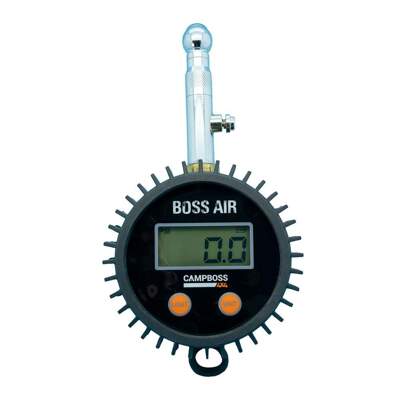 Campboss Boss Air Tyre Gauge
CLICK & COLLECT
$59 incl. GST
The Boss Air Tyre Gauge has been designed to be user friendly and compact for the four wheel driver.  Fitting easily into the side pocket of most vehicles. With the bright blue backlit LED screen it is easy to read in full sunlight and has auto shut-off to increase battery life.  Able to be used not only to check tyre pressures at an accurate level but also the pressure bleed valve allows you to deflate tyre pressures evenly. It has a swivel head to make it easy to access valves stems on all types of aftermarket rims.  Overall it is a good quality Tyre Pressure gauge.
Boss Air Tyre Gauge Specifications
Pressure Range:
0 - 255psi
0 - 18bar
0 - 1800kpa
0 - 18kg/cm2
Features :
select between psi, bar, kpa and kg/cm2
0.5psi accuracy
large backlit LCD display
auto shut-off
protective rubber cover
bleed valve
2 x 1.5V AAA batteries (included)
weight 157g
We also sell a range of other great Campboss 4x4 Accessories such as First Aid Kits, Recovery Shackles, Tyre Deflators and Inflation Gauges.
CODE: CB9329879001095